You're in safe hands
Willson Grange Limited was founded in 2000 by Financial Adviser Stuart Willson. Since then, the company has grown to become one of the largest practices of the St. James's Place Wealth Management Group in the north west, servicing over 2,300 clients.
We offer the ideal combination:
a team made up of the highest-qualified and most experienced financial services professionals;
a culture of first‐class customer service;
total adaptability to industry changes and responsiveness to clients' needs.
Working together
St. James's Place is a FTSE 100 business, and is well established as one of the UK's leading wealth management organisations.
At the heart of the business is the St. James's Place Partnership, which is the advisory channel for St. James's Place Wealth Management. This brings together some of the most experienced, able, and highly regarded professionals working in financial services today.
Willson Grange Limited became an appointed representative of the group in 2009, progressing to the status of 'Principal Partner Practice', managing more than £320 million of funds on behalf of clients.
Six steps to financial freedom
We know from experience that every person we see will have their own set of responsibilities, ambitions and areas of worry. We treat each client as an individual, never handing out off‐the‐shelf solutions: what works for one person just wouldn't work for another.
Our tried‐and‐tested method is a six‐step fact‐finding process that leads to an agreed personal Financial Plan for every client. It begins with a frank, but encouraging, discussion about lifestyle goals, moves on to perceived barriers and risks, and ends with agreeing a plan based on expertly researched and individually tailored solutions.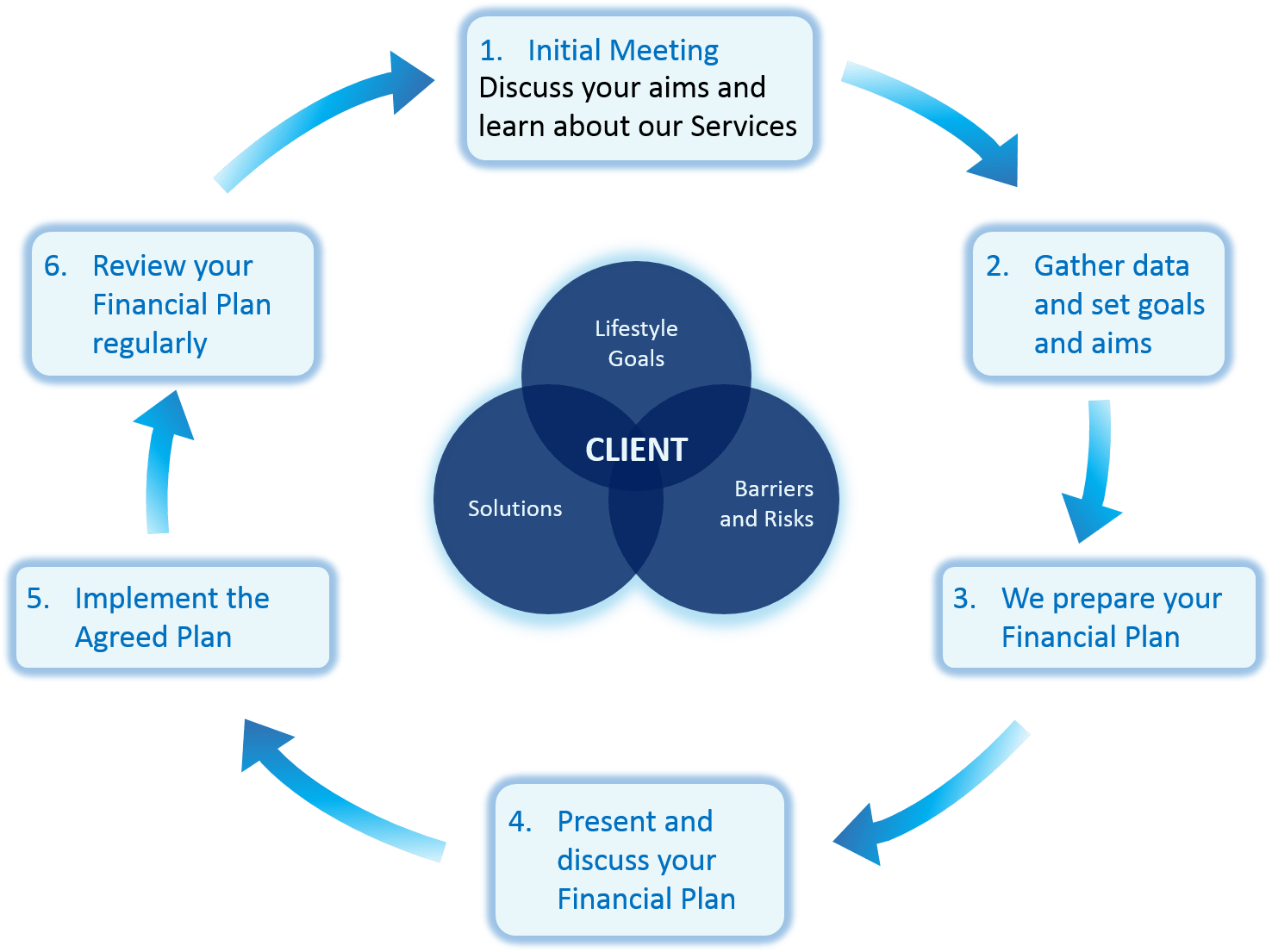 The beauty of such a personalised plan is that everyone, client and adviser, has a complete understanding of the situation and what areas need to change to reach specific goals. It has the effect of simplifying a person's affairs, offering protection of their assets and giving them not only peace of mind, but that all‐important ability to feel, and indeed to be, in control of their finances, all of the time.